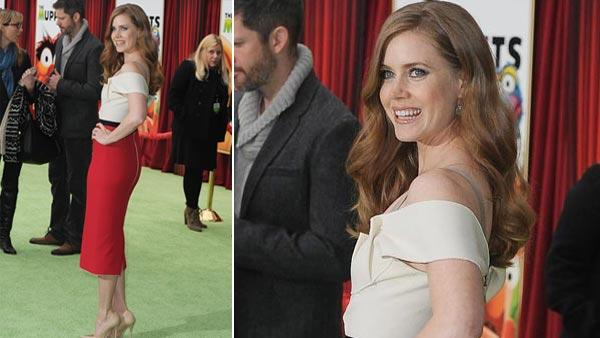 Amy Adams dons off-the-shoulder dress to 'The Muppets' premiere (Poll)
Amy Adams turned heads at the Hollywood premiere of "The Muppets" film on November 12, dazzling in a classy red ensemble.
The 37-year-old superstar arrived in a body-hugging, off-the-shoulder crimson Roland Mouret dress. The actress set the outfit off with Jimmy Choo shoes and a Ferragamo bag.
Adams arrived at the premiere with fiancé Darren Le Gallo and posed alongside co-stars Jason Segel and Rashida Jones. Adams plays the character Mary in the puppet-filled film.
The Muppets are a group of puppets the late Jim Henson created in the mid-1950s, which include Kermit the Frog, Miss Piggy and the rowdy "Animal." They starred in several of their own television shows throughout the years and the franchise has also spurred several films, such as "The Muppets Take Manhattan" in 1984, "Muppets from Space" in 1999.
Segel, who stars in the comedy series "How I Met Your Mother," co-wrote the script of the film, which is slated to open in theaters on Nov. 23, 2011.
"The Muppets" also stars Emily Blunt, Mickey Rooney, British funnyman Ricky Gervais, Charles Grodin and television chef Rachael Ray. Alan Arkin, Mila Kunis, Jack Black, Neil Patrick Harris, Katy Perry, Whoopi Goldberg, Billy Crystal and Wanda Sykes are all set to make cameos, among others.
Adams first appeared in the beauty queen comedy "Drop Dead Gorgeous." She has since starred in films like "Enchanted," "Sunshine Cleaning" and "Julie & Julia." Last year, Adams was nominated for an Academy Award for Best Supporting Actress for her role in "The Fighter."
Adams will next appear in Paul Thomas Anderson's controversial new movie, formerly known as "The Master." The actress will play the wife of Phillip Seymour Hoffman's character, Lancaster Dodd, a charismatic intellectual who returns shaken from World War II to form a faith-based organization that begins to catch on in the 1950s.
The actress will also star opposite 27-year-old Henry Cavill, who was picked to portray Clark Kent/Superman in the upcoming Superman reboot, "Man of Steel."
What do you think of Amy Adams' "Muppets" premiere look? Vote in our poll.